Paper Plate Tambourine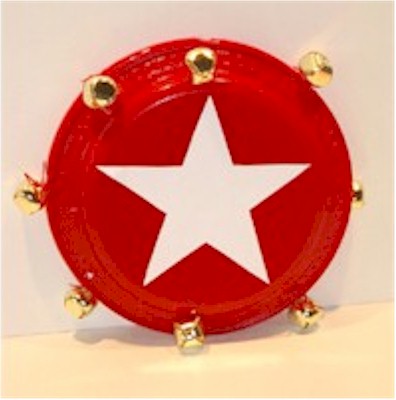 This fun musical Paper Plate Tambourine is perfect for a kids playtime craft or parades. It is a great rhythm instrument that the kids will love to make and play.
Supplies
Heavy duty paper or plastic plates
Glue
Staple
Hole punch
String or yarn
Wide-eyed needle
Materials for decoration - crayons etc.
Instructions
Join two heavy duty paper or plastic plates facing each other. You can do this with staples, glue or by punching holes and tying them together. I tied, thus avoiding fingers scraped by staples. I also thought tying would be less likely to come apart.
I punched holes with a hole punch in one plate, then used that as a pattern to mark where the holes should go on the other plate. Punching holes in the plastic plate was a little tricky, perhaps requiring some adult help.
Using a big needle with a big eye, I threaded mending yarn through the holes, joining the two plates with a knot. I left enough yarn to tie on jingle bells.
The star was glued on.
Contributor

Kabubble
With ten years of "Grand" parenting behind the team at Kabubble they've come up with lots of ideas on how to have lots of fun along the way and they have created treasured memories. This site shares those ideas with all grandparents and parents.