Paper Plate Listening Ears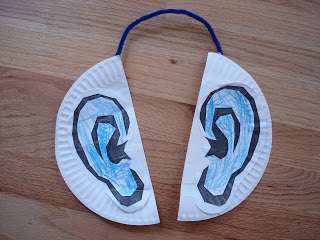 Kids become aware that they need to listen when they wear their own Paper Plate Listening Ears. Listening and not talking is one of the hardest things for young children  These fun Listening Ears are a fun reminder.
Supplies
Small Paper Plates
Crayons
Pipe Cleaner
Marker
Clip Art Ears (optional)
Scissors
Glue
Instructions
Color paper plate and cut in half.
Draw big ears on the  paper plate or cut out some clip art ears. Color and glue on.
Glue pipe cleaner to top of paper plate to create a headband for their ears.
Why not have a peg for each child to hang their Listening Ears to be brought out for listening activities.
Contributor

Mama-Jenn.blogspot.com
I am a Christian wife and home-schooling mama striving to be a Proverbs 31 woman! I am blessed with 5 kids, including one princess and two sets of twin boys! In my "spare" time I enjoy scrapbooking, though blogging seems to be taking its place. I currently have three main blogs. This is my family/homeschool/craft/everything blog. The Homeschool Resource List is a collection of all the free online resources that I have found for homeschoolers. The "Brown Like Me" Book Review is a collection of books featuring "brown" characters. I also write for Totally Tots, which is a blog dedicated to those with toddlers.