Paper Plate Chick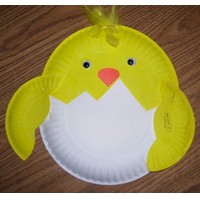 This craft is a delightful addition to the many paper plate crafts that young children have come to enjoy making.
Supplies
One large paper plate
One small paper plate
Scissors
Yellow paint
Orange construction paper or foam
Craft glue
Wiggle eyes
Instructions
For this project you need one small and two large paper plates.  Fold the small paper plate in half.  Cut a scalloped edge to make wings.  Refer to the photo. Paint yellow. 
 Cut one paper plate to to be the egg shell as shown.  Set aside.
 
Paint the other large paper plate yellow. After the plate has dried, assemble using the photo as a guide.
Cut a small orange scrap of construction paper or fun foam for a beak.  Glue in place. 
Add wiggly eyes and feathers to complete the project.
This craft is reprinted courtesy of MakeLearningFun.com.
Contributor

MakingLeaningFun.com
Making Learning Fun: An early childhood education website filled with free printables designed to do just that, make learning fun!  Whether you are a parent, teacher, or childcare care provider, you'll love our site filled with educational printables and activities for the children you love.  You'll find that pre-kindergarten through second grade students will enjoy our activities most, but you'll find yourself having fun too!