Paper Parol Star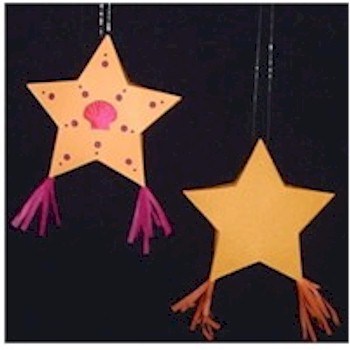 Use this Paper Parol Star to encourage kids to learn more through crafts originating in other countries. The most popular symbol of Christmas in the Phillipines is the Parol. It represents the blessed star of Bethlehem. For Filipinos, not having a Parol for decoration makes Christmas somewhat incomplete.
Supplies
Tag board
1/8" and 1/4" hole punches
3 Sheets Tissue paper (51/2" square)
Glue
1 Yard nylon filament
Needle
Scissors
Stylus
Straight edge
Optional:
Fiskars® Texture Plate: filigree
and Texturing Tool
Instructions
Cut two parol stars according to pattern found by clicking on the printables. Score the fold lines with stylus.
Punch 1/8" and 1/4" holes in both star sides according to pattern. Glue tissue paper on the inside of each star. Trim tissue edges and cut to separate tabs. Fold tabs to the inside of each star as shown on the picture below.
Cut about eight 1/8" x 51/2" strips tissue paper. Cut lengths in half. Glue eight strips in two lower star points.
Apply glue on the top of a small tab. Align the 2 stars back to back. Stick large tab from second star over small tab on first star. Glue each tab together. Continue around all five points.
Optional: Pour cinnamon potpourri in star before sealing last tab.
Hanging loop: Thread needle with nylon filament. Run needle and filament through top star point. Bring filament ends together. Tie off ends.
Optional: Glue a punched motif, shell or rubber stamped design on star center.
Apply glue on the top of a small tab. Stick large tab from second star, over small tab.
Patterns, Templates and Printables
Click on a pattern to open it in a new window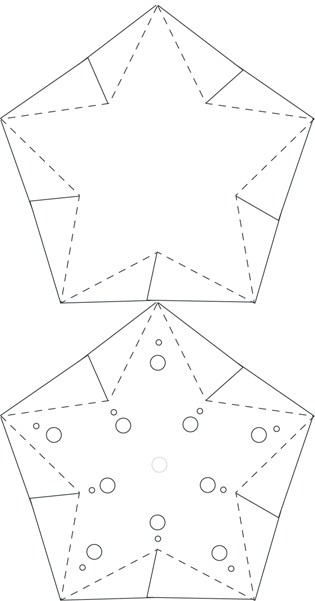 Contributor
HANDS ON Crafts for Kids
Remember what we all say at Hands On Crafts for Kids, "there's no right or wrong way to crafting…only our way!" We hope that you will join us for Hands On Crafts for Kids – Back to Basics.