Paper Owls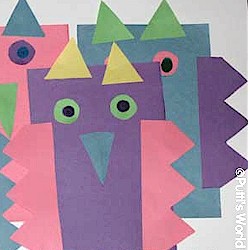 Owls are a favorite subject for kids big and little. These Paper Owls are easy for little fingers to create.
Supplies
Construction Paper
Scissors
Glue Stick
Black Marker
Instructions
1.Take a construction paper and fold it horizontally in half.

2.Then cut it along the fold to make 2 halves.

3.One half is used for the body.

4.The other half is folded again horizontally and cut.

5.On the first part, draw zig zag lines as shown below and cut which will be the
feathers. the cut triangles become the ears.

6.From the second part, cut eyes and beak. Now you have all the parts ready for the owl.
Then glue the parts to the body. Putti mixed and matched the colors here.
 Draw eyeballs using a black marker and the owl is ready. Here is the finished paper owl.

Owls  are the most celebrated of Halloween creatures along with spiders and bats. Guess we will be making more of these at Halloween too, maybe in browns and black.
This craft is reprinted courtesy of Putti Prapancha
Contributor

Putti Prapancha
Roopa Shri Mother of a loving little preschool girl, Putti who is the inspiration and very reason to start her blog - Putti Prapancha. It is the place where she share all her fun activities and creative play.