Paper Owl Letter Carrier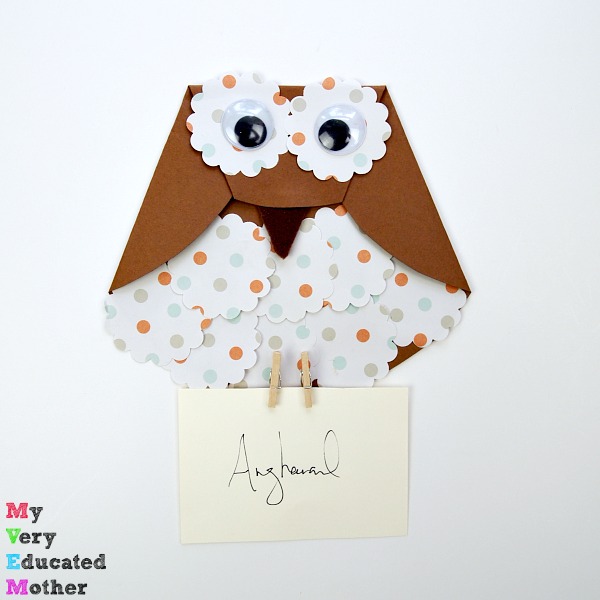 This Paper Owl Letter Carrier is perfect for you Harry Potter fans. What fun to use it to deliver birthday party invitations themed around Harry Potter.
Supplies
Paper  (both patterened and colored)
Googly eyes
Felt
Mini clothespins
Glue stick
Scissors
2 in Scalloped paper punch (optional)
Instructions
If you're going to making this project with younger kids I recommend cutting and gathering all the parts ahead of time. That means cutting out circles (I used a salad plate as a guide), triangle felt beaks, and feathers. For the feathers I used a 2 in. scalloped paper punch on a variety of patterned scrap paper.
Step 1: Cut your paper into circles. If you'd like you could use paper plates and paint them for an extra bit of fun.
Step 2: Fold two sides of your paper circle down and then fold over the two closer corners you've created. Um, I'm sorry, that doesn't make sense, but if you look at the pictures you'll see what I mean.
Step 3: Glue your felt triangle down so that it peeks out from your fold, and then glue the fold down.
Step 4: Add your eye tufts, googly eyes, feathers, and clothspin claws.
Having a Harry Potter Party? Here's a great idea for invitations!
That's all it takes to create your owl carrier. With a quick search you can find printable Hogwarts acceptance letters to send to your little witches and wizards. Plus, if you're hosting a Potter themed party this is a great way to deliver your invitations.
So easy to make and a fun way of delivering mail. Harry Potter Craft for Kids - Paper Owl Letter Carriers!
Contributor

My Very Educated Mother
Erin Sipes is a writer, crafter, and homeschooling mother of (soon-to-be) four based in rural Missouri. She is also the voice behind My Very Educated Mother, a blog dedicated to advocating the benefits of a creative home by sharing kids crafts and family-friendly recipes, as well as encouraging self-reliance, recycling, and responsible consumerism.