Paper Kente Weaving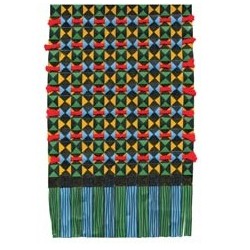 Print This Craft
Here's a craft that teaches the kids how to weave and also serves as a teaching tool for understanding and appreciating the diversity of others around them.
Supplies
Black Crayola Markers
Elmer's Washable School Glue Stick
Trait-tex Yarn Needle 3", Extra-Large Eye
Pepperell Jumbo Roving Yarn Orange
Hygloss Weaving Strips
Instructions
Step 1: Start off with one horizontal and 13 vertical weaving strips. With glue stick, glue each vertical strip to the horizontal strip across the top. The horizontal strip can either be woven through the vertical strips or glued straight (which is easier for younger children).

Step 2: Choose 15 more weaving strips. Weave these strips horizontally through the vertical strips, starting from the top and finishing at the bottom. Trim the ends of the horizontal strips flush with the vertical strips.

Step 3: Use black markers to create Kente design accents on the weaving and fringe.

Step 4: Use a yarn needle to add texture by weaving yarn accents into the Kente Project.
This craft is reprinted courtesy of United Art & Education where you can also purchase supplies for this craft.
Contributor
Cucicucicoo: Eco Sewing and Crafting
Cucicucicoo: Eco Sewing & Crafting proposes all sorts of DIY projects to creative minds of all ages who love to make things without harming the environment. Repurposing materials is a great way to save the Earth while expressing yourself though all types of creative means! Come check out the tutorials for kids and adults at Cucicucicoo.com!