Paper Bag Scarecrow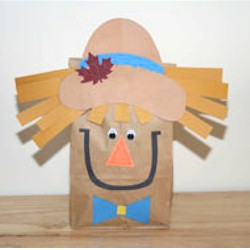 Create a scarecrow with your kids with no messy hay!  This happy Paper Bag Scarecrow craft makes the perfect fall decoration.  He is easy to do and with some prep work is a great craft for even a toddler to do! This is even better if you are recycling a paper bag that has already been used once. A quick press with an iron will take out most of the wrinkles. The rest will give him character.
Supplies
Brown paper lunch bag
Newspaper
Yellow, brown, orange, black, blue, and red construction paper
2 googly eyes
Glue
Scissors
Tape
Pattern
Instructions
Use the newspaper to stuff your brown paper lunch bag.  Be careful not to stuff it too full!  Tape the top of the bag closed.
Print out the template below.  Cut out the shapes and trace them on construction paper.  The smile is black, the hat is brown, the hat ribbon and bow are blue, the nose is orange, and the leaf is red.  Cut out all of the pieces.
Cut a few one inch wide strips of yellow construction paper.
Glue the bow onto the bag towards the bottom.  Glue the tiny yellow square in the middle of the bow.
Glue the smile on above the bow.  Then glue on the googly eyes so they are at the same height as the top of the smile.  Then glue the nose in the middle.
Cut the yellow construction paper strips to various lengths and glue along the top of the bag as hair.
To make the hat, glue the blue strip to the tall rounded portion of the hat.
Then glue the brim of the hat on so that it leaves a bit of the blue strip exposed, but not all of it exposed.  Glue the red leaf on the side of the hat.  Glue that hat onto your scarecrow.
Patterns, Templates and Printables
Click on a pattern to open it in a new window
Contributor

AllKidsNetwork.com
All Kids Network is a network of websites dedicated to providing fun and educational activities for parents and teachers to do with their kids. We have hundreds of kids craft ideas, kids worksheets, printable kids activities and more. So far, we have two main sites - allkidsnetwork.com and kidslearningstation.com.