Paper Bag Puppets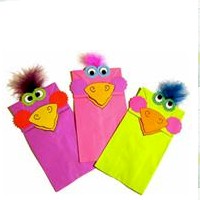 Let kids imagination run wild with these Paper Bag Puppets. They can be any color they choose. This craft stimulates kids creativity and provides hours of after craft time play.
Trivia: Ancient Greek terracotta puppet dolls belonging to  500 BC have been discovered.
Supplies
Pacon® Rainbow® bags
Pacon® Rainbow® construction paper - red, pink, white, black, yellow, orange
Pacon® Peacock™ construction paper – any 2 bright colors of your choice
Pacon® feathers
Fine tip black marker
Glue
Scissors
Instructions
Using scissors and pattern, cut top and bottom of beak from yellow or orange paper. Cut tongue from red paper, cut two 1" circles from white paper for eyes. Cut two circles from black paper for eye pupils.
Cut one heart from pink paper.
Using paper edgers, cut two 1-1/2" circles from a bright color for circles around eyes. Cut two 2" circles from a different bright color for cheeks.
Using a black marker, draw nostrils on top of beak and outline beak pieces and eye whites.
The bottom of the bag is the bird's head. Glue bottom of beak to bag under head. Glue tongue to bottom of beak. Glue cheek circles to sides of head. Glue top of beak to head, placed above lower beak. Glue eyes in place, as shown.
Glue a feather to back of head. Let dry.
Patterns, Templates and Printables
Click on a pattern to open it in a new window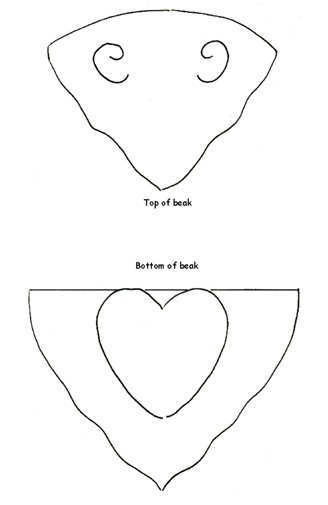 Contributor
HANDS ON Crafts for Kids
Remember what we all say at Hands On Crafts for Kids, "there's no right or wrong way to crafting…only our way!" We hope that you will join us for Hands On Crafts for Kids – Back to Basics.