Origami Jumping Frogs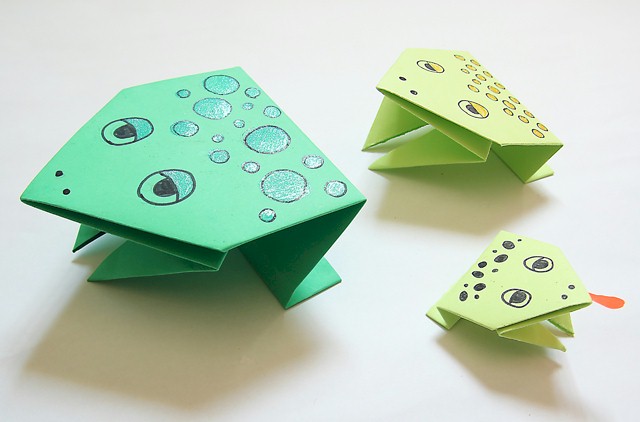 Frogs were one of the seven plagues mentioned in Exodus which culminated in the Hebrews being released from slavery by the Pharaoh and leaving Egypt.  These fun Origami Jumping Frogs are of medium difficulty and make a great project to illustrate part of the telling of that story at Passover.
Supplies
Green paper, the large dark green frog was made with an A4 sheet, which is a nice size, though is too heavy to jump, you'll need rectangles, not classic origami squares
Red or neon any color paper for tongues (optional)
Markers and gel pens
Step by step Tutorial
Instructions
For step by step illustrations, click on the tutorial above and have fun with your new found origami skills.
Contributor

CreativeJewishMom.com
Visit me at CreativeJewishMom.com. on the exciting journey of giving greater meaning to the everyday through creativity. This blog is my way of sharing with you the joys of crafting, decorating, cooking, and gardening. I love simple ideas, recycling and quick transformations.