Oreo Turkeys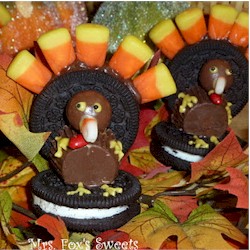 Worried you won't have something fun to make for the little kids (and big kids) at Thanksgiving? These Oreo turkeys will be a big hit.
Supplies
Double Stuff Oreo Cookies
Candy Corn
Whoppers
Peanutbutter Cups
Chocolate frosting
Yellow Frosting
Optional: Red frosting
Optional: black sprinkles for eyes
Instructions
First grab a cookie.  You don't have to put frosting in there, but I like to because it holds in the candy corn a little better. Just give it a little squeeze of chocolate.

Then stuff in your candycorn.  If you're in some sort of candy corn shortage, you can cut off the white tips to use later for your beaks.  I think the candy corn sticks in better with the tip so I leave it on.  Go ahead and do all of the cookies through this step.

Next put a dab of frosting on the opposite end of the cookie and secure it to the "base" cookie.  It helps to place them next to a wall as they dry so they stay put.

While those are drying, unwrap your PB cups.  Take a sharp knife and cut a sliver off of one end.  (I don't need to tell you what to do with the sliver, do I?)  It helps to gently cut in a sawing motion so you don't break the PB cup.  Cut it from the bottom.

Once those are ready, flip your cookies over, but you may find it's easy to keep them next to the wall.  My frosting was a bit soft, so they needed the extra support.
Place a dab of frosting on the pb cup, and place it on the cookie.

Now those little guys will need heads, so glue a whopper on there with frosting as well. I put frosting on the side of the whopper that hits both the cookie and the PB cup. 

While they're still laying there, use a dab of frosting (I use yellow) and glue on the white tip of a candy corn for a beak.  Put two yellow dots on for eyes, and for the black spots in the eyes you can use a dab of chocolate frosting, or a mini chocolate chip, or a little sprinkle like I've used.  A sprinkle is really the perfect size if you have them.

Once the beak stays put you can flip them over and draw on some little yellow feet.  If you have red frosting too (usually comes in a set with the tube of yellow) you can add a little waddle.
This craft is reprinted courtesy of Mrs. Fox's Sweets and you can go to OurBestBites.com for a complete pictorial tuturial.
Contributor

Mrs. Fox's Sweets
Follow Christina at Mrs. Fox's Sweet's, as she shares her adventures in baking and decorating sweets! Check out fun how-to's, tips, and tricks to make it all a little simpler.