Onigiri Halloween Rice Balls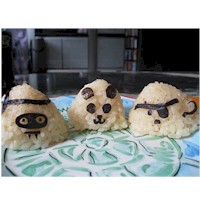 Maggi from Brooklyn is the latest Free Kids Crafts Winner. These Onigiri Rice Balls will delight even the pickiest Halloween party guest.
Supplies
Nori (Japanese Seaweed)
Short Grained Rice
Pot
Water
Scissors
Salt
Instructions
Cook short grained rice .
What you do is once your rice is done cooking, transfer it to a deep plate, and fluff it with a fork.
Once if cools for about 5-7 minutes [depending on how well you can tolerate heat], wash your hands with cold water and pat them dry. Get a separate plate, and pour a few tablespoons of plain old tablesalt in it.
Before making each onigiri, rub some salt on your hands for flavor.
Grab some rice, and shape it like a snowball.
[OPTIONAL: If you want to put a filling in it, you put a ball of rice in your palm, and make a hole in it (but don't make it go all the way through). Fill it with your desired filling, and cover it with more rice. Traditional fillings include Japanese pickles, canned tuna, and grilled salmon.]
You can either leave it round, or make the traditional triangle shape. Make sure you compact it tightly.
When you feel your hands are getting too sticky, rinse with cold water again and continue with salting.
Decorate with NORI! I used scissors to cut my nori  But it was really hard, cause my onigiri came out really small.
Contributor

FreeKidsCrafts Contest Winner
IT'S A WINNER! Take a look at what one of our talented viewers submitted to share with you. This craft was selected as one of this month's winners to received $50 in craft supplies. Click here to find out how you can enter your original creation for our judges consideration.