Oatmeal Clay Wreath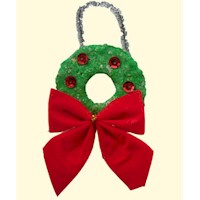 What could be more fun than mixing up your own oatmeal clay and turning it into a treasure to present to Mom, Dad or the Grandparents.
Supplies
1 cup of rolled oats (instant or old fashioned)      
2/3 cup of flour (possibly more)
1/2 cup of water
food coloring
Instructions
Note:  If you wish to add food coloring to the clay, it works best to add it to the water.

Mix all the ingredients together

Knead the dough on a floured surface until it is smooth and not sticky

Give each child a ball of dough

Have them roll it out and cut it out according to what shape you wish

It takes 1 - 2 days to dry. 

Note:  make a hole at the top to insert something to hang the ornament with.
Add the decorations (paint if you didn't use food coloring)
This craft reprinted courtesy of KinderPlans.com.
Contributor

KinderPlans
If you would like to save countless hours of developing effective kindergarten and preschool lesson plans, worksheets, and activities helping preschool and kindergarten children excel, KinderPlans is the place for you.