Not-So-Scary TP Snake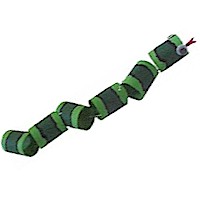 Everyone will have fun with this Not-So-Scary Snake make from a toilet paper cardboard tube. Better add this craft to your collection soon before they do away with the cardboard tube.
Supplies
3 Empty TP Tubes
Green, Dark Green and Black Pain and Brush
Glue
Hand Hole Punch
Wiggle Eyes -- 15mm
Tacky Glue
Small Scrap of Red Paper
Scissors
Paper Clips
String
Instructions
Cut empty tp tubes in half.
Paint the inside light green. Paint dark green in the middle of each ring and lighter green near the edges of each ring. Let dry.
Paint a rough black line where the colors meet.
Punch a hole in each roll near each edge.
Hook pieces together (both ends) using paper clips.
Cut a forked tongue out of red paper. Glue tongue to one end.
On the same end, glue on two wiggle eyes.
Add a string to pull him around.
Contributor

Terri Bose of MakingFriends.com
Terri is the creator of makingfriends.com, freekidscrafts.com, scoutswaps.com and badginabag.com. Her work is republished all over the internet and is considered the queen of kids crafts.