No Sew Scarf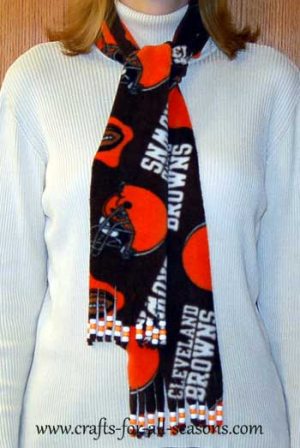 This easy to make No Sew Scarf is a perfect project to make for a cold winter afternoon. It is also a great gift to make for a family member or friend.
Supplies
1/4 Yard of fleece
Ruler
Scissors
Pony beads
Tape (cellophane, masking, or labeling tape)
Instructions
1. You may want to consider buying 1/2 yard of fleece at the fabric store, so you will have enough to make two scarves. If you do this, measure off 1/4 of a yard (about 9 inches) and cut the fleece length wise. The fleece on the bolt will usually measure 5 feet 3.5 inches long, and this is a good length to leave it at. Be sure to trim off the ends of the fleece if necessary, to cut off the white ends.
2. Next, on each end, measure 4 inches up from the bottom of the scarf, and mark this with a line of tape, as shown. Then, measure off 1/2 inch segments along the bottom of the scarf, and cut 1/2 inch wide strips up the bottom of the tape.
3. Now you can decorate the tassels with pony beads. I used three beads per fringe, but you can use as many as you like. Thread each bead by pushing the corner of the tassel into the bead. It helps if you use tweezers to pull it through the bead.
4. Make a knot after you have the beads threaded on, then you can cut off the excess with the scissors. Your no sew fleece scarf is done!
Contributor

Crafts For All Seasons
The Crafts For All Seasons website has many craft projects for every season of the year! There are easy step by step instructions, with many photos to help along the way. Please stop by and browse over 100 craft tutorials!