No Sew Fleece Octopus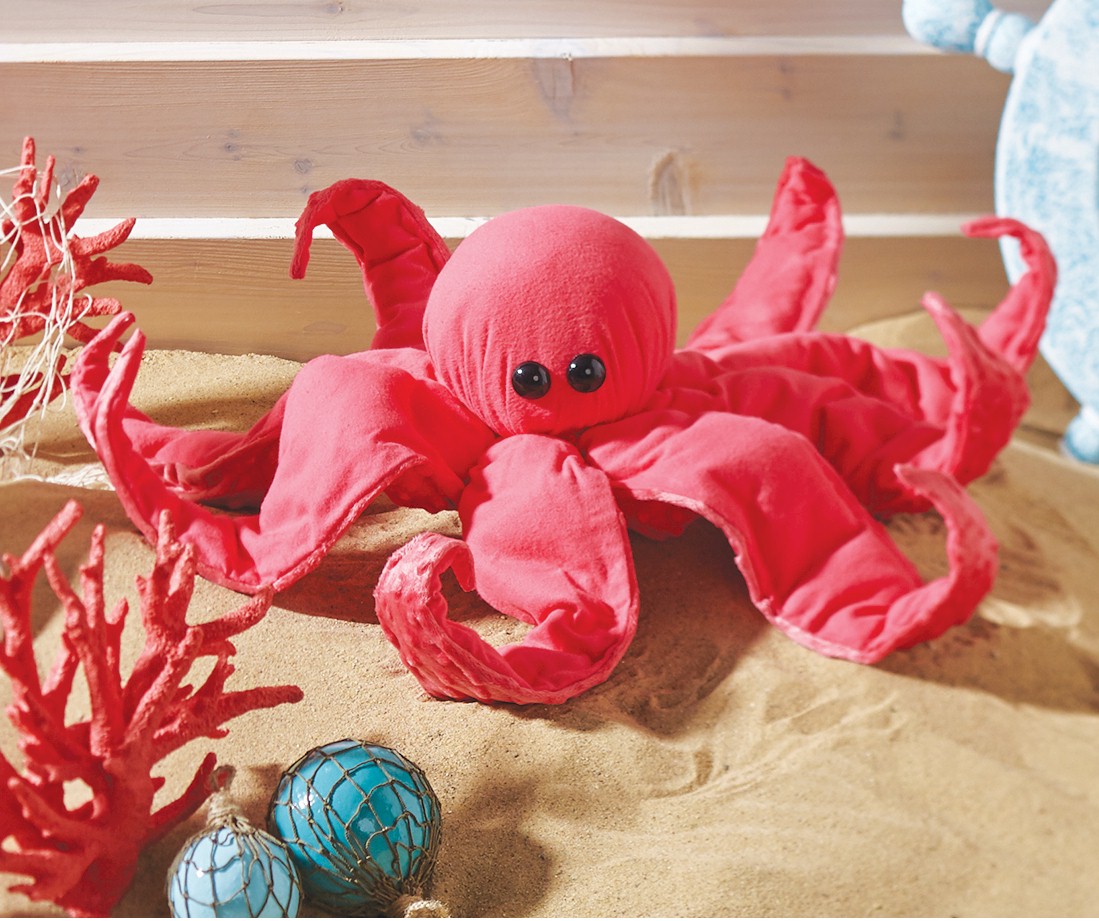 This No Sew Fleece Octopus will give you practice cutting patterns and seeing how things come together to create the finished product.   This is an important part of sewing and a fun craft to add to your collection of hand made items.
Supplies
6" Foam Ball
(1 Yd) Micro Fleece Fabric: Coral
(1 Yd) Dot Fleece Fabric: Coral
(1 Yd) Polyester Rolled Batting
(8 Yds) Heavy Gauge Wire
30mm Half Round Eyes: Black
Monofilament/Fishing Line
Floral Pins (optional)
Low-Temp Glue Gun
Fabric Scissors
Serrated Knife
Instructions
Holding the ball against the table with one hand and starting at the center of the ball, use the knife to slightly taper the bottom portion of the ball to mimic the shape of an octopus's head.
Cover the head with a single layer of batting. Trim the batting to fit so that it does not overlap and glue in place. Cut a 14" circle of the micro fleece. Wrap the fleece around the head and gather the ends together at the bottom of the ball. Stretch out as many wrinkles as possible and use fishing line to secure the ends of the fleece tightly at the bottom of the ball. Leave about 2" of fleece overhanging from the bottom of the ball, trimming the ends neatly.
To create the legs, cut eight pieces of micro fleece and eight pieces of dot fleece using the outer fabric template. Cut eight pieces of batting using the smaller batting template. Lay the dot fleece pieces right sides down. Place a piece of wire along each side of each piece. Glue the edge of the fleece over-top of the wire creating a ½" wired hem on each side. Lay the micro fleece pieces right sides down and glue a ½" hem along both sides of each piece. Lay a piece of batting in between the two pieces of fleece and glue them together along the glued hem. Glue the open end of each leg closed. Glue the top 3" of the legs together side by side to form a circle with an opening in the middle. Glue pleats in the fleece where needed to take up the excess fabric.
Pull the gathered fleece from the bottom of the head through the opening in the center of the legs. Glue to secure the head in place on the legs. Secure the legs to the head with floral pins if desired. Glue the eyes in place on the lower portion of the head as shown.
Patterns, Templates and Printables
Click on a pattern to open it in a new window
Contributor

FloraCraft
FloraCraft(r), locally owned and operated in Michigan, has beenserving the craft and floral industries for 65 continuous years, providing quality STYROFOAM(tm) Brand Foam in shapes and sheets.  We are dedicated to helping beginners and professionals achieve their best results, FloraCraft products are the foundation of every great project.