No Sew Felt Turtle Bean Bag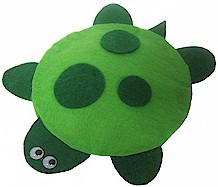 This No Sew Felt Turtle Bean Bag can be used to play catching or tossing games. On top of that it is a fun craft for the kids to make.
Supplies
1 Piece of Lime Green Felt
1/2 Piece of Green Felt
Fabric Glue (Fabri-Tac is the Only Kind That Really Works)
Toothpick
10mm Wiggle Eyes
Dried Beans
Scissors, Tablespoon and Stapler
Polyfill
Instructions
Print patterns.
Staple all around the outside lines to felt. Cut out.
Dab fabric glue all around the very outside edge of one of the lime green circles leaving 2" without glue. That will be the side of the turtle where the stuffing and beans are added.
Place the legs, the head, and the tail in position as shown in the diagram . Dab glue on top these parts so your turtle won't leak filler.
Place the other large lime green circle on top, lining up the edges. Press edges together. The head, tail and feet will be sandwiched between. Let sit five minutes.
Spoon 4 tablespoons of dried beans in the opening.
Place a few tufts of polyfill inside to puff the shell up.
Dab glue on the open edge. Press together.
Glue circles to top of shell of shell.
To make a pocket on the bottom of your turtle, dab glue around the outside edge of three sides of the lime green rectangle. Press onto the bottom of the turtle.
Patterns, Templates and Printables
Click on a pattern to open it in a new window