Needlepoint Torah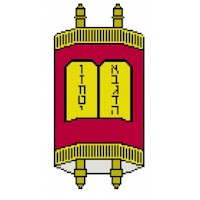 What is a Torah? Imagine a bible, handwritten on cowskin parchment, and rolled up and stored in a gorgeous velvet (or satin) and gold case.
Supplies
Blank needlepoint canvas
Needlepoint needle
White needlepoint yarn (for background)
Gold needlepoint yarn (for trim)
Brown needlepoint yarn (for handles)
Black needlepoint yarn (for outlines)
Burgundy or any other color needlepoint yarn (for center of the Torah)
Instructions
Click on
http://craftstew.com/wp-content/uploads/2008/11/colorful-torah-with-lines-copy.jpg for an enlarged grid pattern.
Starting at the lower right edge of the canvas, begin stitching the pattern in the graph onto your canvas.
Bring the needle up from behind the canvas and up through hole 1. Push the needle down through hole 2. Repeat this same stitch throughout the entire project.

Note: Do NOT knot the thread. Instead let a short tail of thread hang out the back of the canvas and try to use your subsequent stitching to secure it.
When the graph changes colors, change the color of the yarn. If only a few stitches are required, instead of switching yarn, just jump to the next area.
When ending a piece of yarn, slip an inch or two of it behind nearby stitches in order to secure it in place.
This craft is reprinted courtesy of CraftStew.com.
Contributor

Sudbudz
Want to have some creative family time? Print out our SudBudz® Masks and get crafty with the kiddos! More than just a typical Fizzy Bath Ball, SudPrize® is a first ever line of skin-loving and natural bath products that make bath time Fun for Kids and Easy for Moms. A Free companion App, SudBudz® engages your children into an immersive world of special and unique characters called SudBudz®.