Native American Dance Fan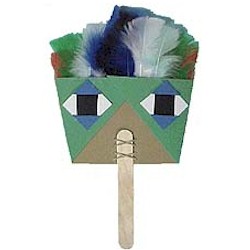 September 24th is Native American Day. Learn more about our Native American tribes and their customs. You can get started with making this Native American Dance Fan.
Supplies
Pattern
Tan Craft Foam
Foamie Shapes and/or Craft Foam Scraps
Two Jumbo Craft Sticks
One Yard #20 Hemp
Turkey Feathers
Tacky Glue
1/8" Hand Hole Punch
Scissors
Instructions
Click on Printables and cut two fans from pattern out
of tan craft foam.
Place one on your work surface and arrange feathers to stick out of the top. Glue in place.
Glue second fan piece on top.
Glue a jumbo craft stick to each side to make a handle, lining them up and gluing the bottoms together. Let dry. punch holes along both side of the handle and lace with a piece of hemp.
Decorate fan with foamie shapes or scraps.
Patterns, Templates and Printables
Click on a pattern to open it in a new window
Contributor

Terri Bose of MakingFriends.com
Terri is the creator of makingfriends.com, freekidscrafts.com, scoutswaps.com and badginabag.com. Her work is republished all over the internet and is considered the queen of kids crafts.