My State Necklace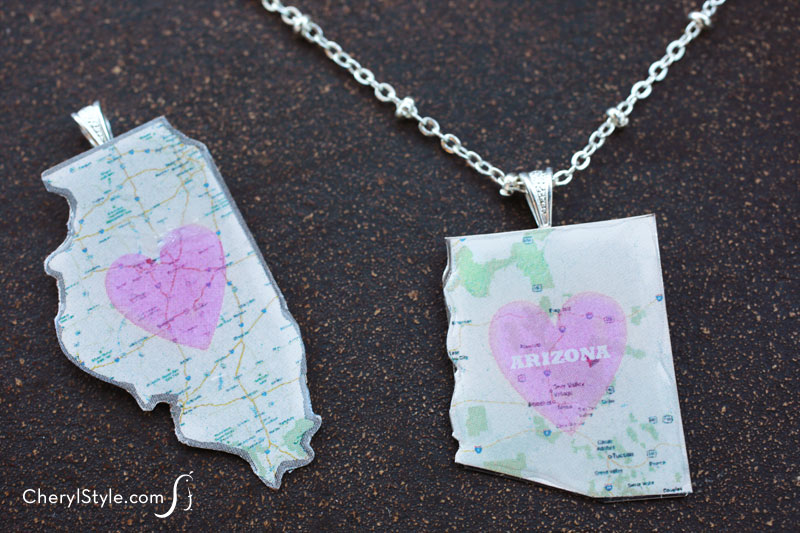 We're all proud of our home state and teens will love making this My State Necklace to show their home state pride.  Sharp edges on some of the materials dictate that for safety reason this craft is for the older crafter. This craft is also a great momento to make to as a reminder of your vacation adventure or a gift for someone special.
Supplies
Aluminum sheet (.032" x 4" x 10")
Spray adhesive
Scissors
Three dimensional glue
Pendant hanger clasp
Industrial-strength glue
Chain
Instructions
Print out the map of the states on regular paper then select and cut out the state of your choice.
Adhere the cutout to the corner of the aluminum sheet using a spray adhesive. Next, carefully cut the metal sheet along the edge using scissors.
Pour the three dimensional glue over the top and allow it to dry overnight.
Once dry, center a pendant hanger clasp on the top portion of the back of the cutout, and attach using industrial-strength glue. Allow it to dry up to 5 hours.
When secure, attach the chain and your necklace is ready to wear!
NOTES: If you're from Michigan...you know there's an 'upper' and 'lower' peninsula so cut out both pieces and follow directions to hang on a jump ring with the 'upper' (smaller piece) in front of the larger one.
If you don't want to buy aluminum sheets, you can use aluminum from a soda can. It won't be as sturdy, but it will definitely work! Just be careful
Patterns, Templates and Printables
Click on a pattern to open it in a new window