Mr. Recycle Head Craft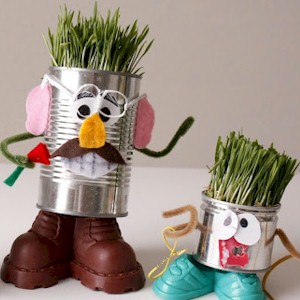 Recycle tin cans into this adorable Mr. Recyclehead Craft. You can make it look like ours or you can create  one that is uniquely your own. Teachers can have the class make a whole school of Mr. Recyclehead craftsl It would be fun for the class to grow it's own wheat grass for the project.
Trivia: If you recycle a tin can it will probably appear as a new tin can within 60 days. In 2009 more than 57 percent of the tin cans used in the United States were recycled.
Supplies
Clean Tin Cans
Pipe Cleaners
Scraps of Felt
Hot Glue Gun
Twist Ties
Bread clincers
Bits of plastic from lids
Mr. Potato Head Shoes
Wheat Grass
Garden Scissors
Instructions
To make Mr. Recycle head take some tin cans, remove the labels, and pound some holes in the bottoms. I used a screwdriver and a hammer.
It is best to hammer the holes on a stable area that can absorb the shock of the hammer blows. Such as carpet or the grass outside.
Use pieces of plastic lid for the eyes, twisty ties for the guys' glasses, bread cinchers for ears or mouths. There are all kinds of possibilities.
The shoes are from a Mr. Potato Head set.
The shoes help them look more complete and they allow the water to drain from the bottom more easily when you water their hair.
You can buy a tray of wheat grass or grow your own. Take your 'rug' of wheat grass out of the tray… take some heavy duty scissors and snip the grass into can size chunks. Plunk them into the cans.
For the taller can, I took a sour cream lid, cut it in half and shoved both pieces into the bottom. This elevated the grass so you could see it better and it still allows water to drain so it won't grow mold.
Use your imagination to create your own unique can man.
Contributor

Delia Creates
I'm Delia and I blog at www.deliacreates.com. I am a crafter, sewist, photographer, crocheter, and general DIY-er. I have three kids who I love to create for and with. They are often my inspiration and my muses. I even have a section of my blog dedicated to them, call Kids Create: http://www.deliacreates.com/kids-create.