Mom's Love You Bunches Card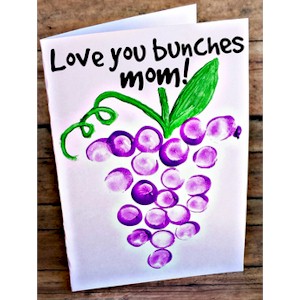 Mom knows they love her, but here is a chance for the kids to put it down on paper with a Mom's Love You Bunches Card for Mother's Day.
Trivia: Some people believe the thumb represents free will but it can vary from culture to culture.
Supplies
Washable green/purple paint
White cardstock paper
Black marker
Paintbrush
Instructions
To make this Mom's I Love You Bunches Card, have the kids dip their thumbs into the purple paint (we just used the cap- LESS MESS!) and have them press it on the paper. You might need to guide them on the shape.
Give them a paintbrush and have them draw a stem and vine with the green paint.
Let it dry and write "Love you bunches, mom!" at the top!
Contributor

SassyDealz.com
"Michelle has a teaching degree and for the love of art she started sharing kids crafts on her blog to inspire teachers, parents, and the little ones! SassyDealz.com is not only a craft website, but also a place where you can find online bargains and freebies!"