Mix and Match Pumpkin Faces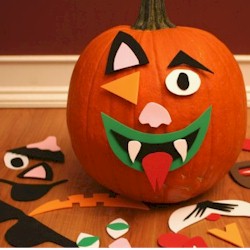 Jack-O-Lanterns are always the centerpiece of Halloween. Younger crafters can express themselves with their pumpkins by using these mix and match elements to create original designs.
Supplies
Pumpkin
Craft foam sheets
Double-sided tape
Scissors
Sticky back Velcro
Instructions
I Cut eyes, noses, mouths, and eyebrows. Before long, I had six fun faces — a pirate, a monster, a cat, a clown, a goofy face, and a traditional Jack-o-lantern.
Next, I cut some small pieces of the fuzzy side of some sticky back Velcro and put them on the pumpkin where I wanted the features to go. Then I put pieces of the hook side of the Velcro on the backs of all the facial features.
Look at the photos below to see the variations designed by Chicha and turn the kids loose to create their own combinations.
This craft reprinted courtesy of ChicoAndJo.com.
Contributor

ChicaAndJo.com
"We are Chica and Jo and we are crafty, frugal, and fun!  We will help you unlock your inner crafter with new and creative projects, using inexpensive, everyday items.  Visit us whenever you need ideas, crafts, or inspiration for just about anything!  Our hundreds of free tutorials loaded with photos and video make us your ultimate online guides for all things crafty."