Miss Spider's Treat Basket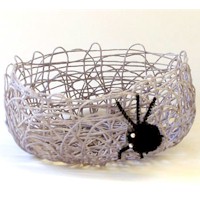 Miss Spider is all set to welcome you into her Yarn Candy Bowl…. be careful!
Supplies
910-150 Microspun Yarn: Sterling 1 ball
860-153 Vanna's Choice® Yarn: Black 1 ball
8-12 in. (20.5-30.5 cm) ceramic mixing bowl
Plastic wrap
Fabric stiffener
Plastic food storage bag
Craft glue
Black chenille stem
2 small pearl beads
Instructions
Cover outside of mixing bowl snugly with plastic wrap. Cover a flat surface with plastic wrap. Place bowl upside down on flat surface. Pour a small amount of fabric stiffener into plastic bag.

Wind into small skeins, then drop skeins into stiffener in bag. Close bag, and knead gently to saturate yarn with stiffener.

Squeeze out excess stiffener, then drape yarn up and down the sides of the bowl, looping back to center bottom, all the way around.

Allow piece to dry.

In same way, wrap yarn lengths horizontally around bowl. Allow to dry, then add additional lengths as desired.

When piece is thoroughly dry, remove from bowl and use craft glue to reinforce strands at any weak points.

Make a small pom-pom from black yarn. Cut chenille stem into thirds, tie together at center and fan out for legs.

Glue pom-pom to legs. Glue pearl beads to pom-pom for eyes.

Glue completed spider to bowl.
This craft reprinted courtesy of Lion Brand Yarns.
Contributor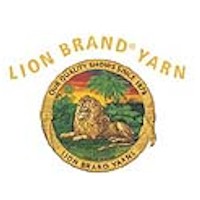 Lion Brand Yarn
Lion Brand is a family-owned and operated business and a beloved American brand since 1878. Today, the business is run by four members of the fourth generation of Blumenthals. It is their passion for yarn, reflected by all Lion Brand associates, that is the secret to Lion Brand's success.