Mice Made with Candy Kisses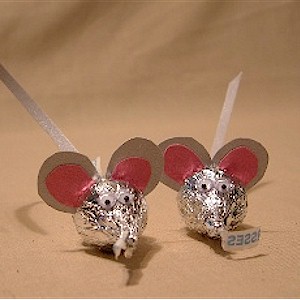 The kids will love these Mice Made with Candy Kisses. Everyone will be running to make this tasty craft for Valentine's Day.
Valentines Day was first associated with romantic love in the circle of Geoffrey Chaucer in the High Middle Ages, when the tradition of courtly love flourished. In 18th-century England, it evolved into an occasion in which sweethearts expressed their love for each other by presenting flowers, offering candy, and sending Valentine's cards. Today everyone from young to old gets into the spirit of sharing their love with friends and family on Valentine's Day.
Supplies
Chocolate candy kisses (2 per mouse)
Tiny wiggling eyes
Grey paper
Pink paper
Silver paper
Scissors
Glue or glue dots
Instructions
Make mouse ears. Cut a 1/2" U shape from your grey paper. Cut a 3/8" U shape from your pink paper. Adhere pink U to grey U. Trim if needed. The open end of the U is the bottom of the ear. Make 2.
Adhere two candy kisses together placing ears between the two candy kisses; fat bottom end to fat bottom end. You may need to hold in place for a few minutes if using liquid glue.
Adhere two wiggly eyes to front of mouse. Cut a 1/4" to 1/8" x 3" strip from your silver paper for the mouse's tail. Diagonal or triangle shape one raw end. Adhere tail to back of mouse.
Contributor
FaveCrafts.com
FaveCrafts is owned by Prime Publishing LLC, an Internet Media Company that operates web site communities, e-mail newsletters and e-commerce stores in niche areas such as crafting, home décor, wellness, and cooking. See their craft projects at https://www.favecrafts.com/