Mesh Ombre Bows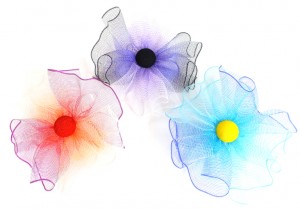 These Mesh Ombre Bows can be used as package decorations, hair bows or to make a bouquet of unique flowers.
Supplies
2" Ball FloraCraft® Foam
10" Ombre Decorative Mesh: (Assorted Colors)
Coordinating Color ½" Ribbon
Foam Cutter or Serrated Knife
Low-Temp Glue Gun
Tie Wire
Scissors
Instructions
Cut two, 18" lengths of mesh. Starting at the center of one end, pleat and gather mesh from one end to the other. Secure the gathered center with tie wire. Repeat this with the other length of mesh.
Lay gathered mesh pieces together side by side so the colors alternate. Tie together at the center.
Cut the ball in half. Wrap with ribbon and glue to secure. Glue ball to the center of flower.
Contributor

FloraCraft
FloraCraft(r), locally owned and operated in Michigan, has beenserving the craft and floral industries for 65 continuous years, providing quality STYROFOAM(tm) Brand Foam in shapes and sheets.  We are dedicated to helping beginners and professionals achieve their best results, FloraCraft products are the foundation of every great project.