Masks From Recycled Cheese Boxes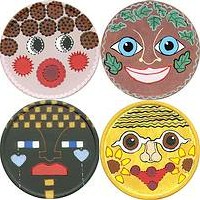 The variations on these face masks made from recycled cheese boxes are limited only by your imagination. Kids will have a great time with this craft and it makes a unique wall decoration.
Trivia:  Laughing Cow Cheese and French brie  come in round cheese boxes.
Supplies
Stencils
Penny
Paint
Lids from the small round boxes that hold the cheese triangles.
Dimensional Fabric Paint (optional)
Instructions
I only used the bottom of the lid as the top has a piece of paper (label) glued to it and that often has wrinkles in it and I wanted a smooth surface.
After basecoating the bottom in the color of your choice, use a penny to draw a circle for the eyes. Then I looked through my various stencils and used bits and pieces of those to create the face. The finishing touch was the use of dimensional fabric paint to accent the mask.
Contributor

Marlies' Creative Universe
Marlies Cohen calls herself a creative maven and has been crafting all her life. Everything in her life is affected by her creativity and her house is her gallery. For the last 10 years she has had her own website and freely shares her ideas. She takes inspiration from her surroundings and sees her crafting not as work but as playing and experimenting, especially when it comes to recycling. Coming up with new uses for these items has become second nature.