Martian Cupcakes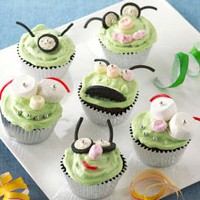 Make these fun Martian Cupcakes for a birthday party or for Halloween.
Supplies
1 pkg. (2-layer) chocolate cake mix 1 pkg.
3.4 oz.) JELL-O Pistachio Flavor Instant Pudding
1/4 cup powdered sugar
1 cup  cold milk
1 cup thawed COOL WHIP LITE Whipped Topping
4 JET-PUFFED Marshmallows, cut in half
1/4 cup JET-PUFFED FUNMALLOWS Miniature Marshmallows
4 OREO Cookies, split in half
6 Mini OREO Bite Size Chocolate Sandwich Cookies, split in half
2 pieces string licorice
1 Tbsp. small round silver hard candies
Instructions
PREPARE cake batter and bake as directed on package for 24 cupcakes. Cool in pans 15 min. Remove from pans to wire racks; cool completely.
BEAT dry pudding mix, sugar and milk with whisk 2 min. Stir in COOL WHIP. Spread onto cupcakes.
DECORATE with remaining ingredients as shown in photo to resemble aliens. Keep refrigerated.
Serving Suggestion
Specialty foil cupcake baking cups (available at most bulk food stores) will add a special 'space' element to the martian cupcakes.
Shortcut Omit pudding mix, sugar and milk. Tint 2-1/4 cups thawed COOL WHIP Whipped Topping with green food coloring; spread onto cooled cupcakes. Continue as directed.
This craft reprinted courtesy of Kraft Foods.
Contributor

Kraft Foods
For over two hundred years, many companies have united to make Kraft Foods what it is today. Check out their heritage page and learn the many companies that comprise the Kraft family of foods.