Make Labels From Jar Lids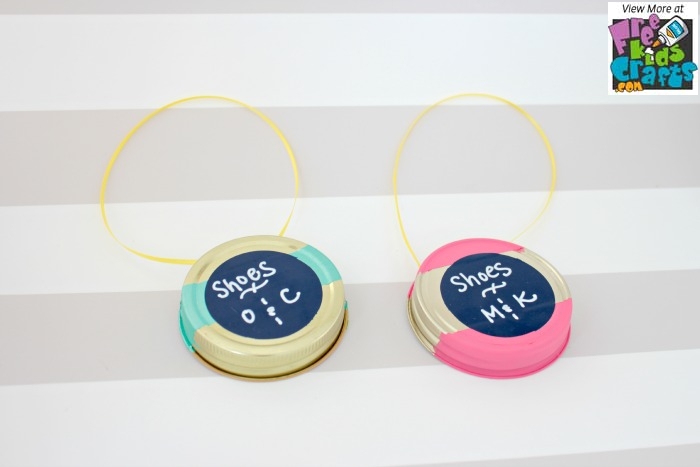 Have the kids Make Labels From Jar Lids to attach to special baskets that hold the items that they tend to mislay because they don't have a special place for them. Making it special means they will be more apt to use it.
Trivia: Colonists needed many baskets. There were no cans, plastic bags, or cardboard boxes. They used baskets to carry and to store many things.
Supplies
Lids from empty jars (washed and dried).
Craft paint in various colors (I used white, turquoise/mint, pink/coral, and yellow)
Adhesive Vinyl and circle punch or scissors
Chalk marker
Ribbon or bakers twine to hang label
Drill with small bit
Frog tape / painters tape
Instructions
Paint Jar labels white. I did this with the three wire bin labels. This is where the kids can help. For the shoe bin labels, I skipped this step (in order for the gold to show through)
Tape off patterns or blocks.
Using regular craft paint … paint untaped areas. You'll need several coats on the bare lids (but it will eventually cover, I promise)
Once dry, drill two holes along the edges of your lids.
Cut your vinyl for the inside of your lids. If you don't plan to change the label out, you could just use scrapbook paper written on with a marker here. OR … like Jen mentions, if you want to be able to erase and re-label lids, and don't have vinyl … you could easily use chalkboard paint.
Stick your labels in the center ditto on the other lids
Using Chalk marker, write on your label and tie ribbon through top holes.
Thread ribbon through bin and tie on the inside of the lid (backside of lid).
Wire bin labels … complete!
For the wicker shoe bins, using a large needle, I actually threaded the ribbon through the weaves (then tied on the backside of the lid).
Shoe bin labels … complete!
Let the kids help select the bins they will need (with a little gentle suggesting from Mom) and they will be more apt to use them. Great idea for mittens and hats, school bags, and items they look for every day.
Contributor

View From The Fridge
Katie is the writer and creator of View From The Fridge. She is also the mom to two adorable little boys (and another baby on the way), and wife to a great guy! She loves to craft, decorate, dream up projects for her home, and she's learning to love to cook (though not there quite yet). She started View From The Fridge in the fall of 2013. Katie also enjoys coffee, a good glass of wine or beer (when she's not expecting!), running, and anything outside. She lives in Minnesota and takes full advantage of the wonderful (but short) summer season outside with her family.