Make A Fish Racing Game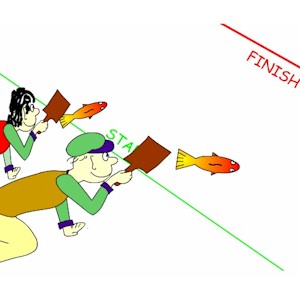 Show the kids how to Make A Fish Racing Game that can be played indoors while the weather is not so friendly outside. This game starts out as a craft project the kids can make and then turns into a fun game to keep them occupied for the rest of the day. This Fish Racing Game can be a fun party game too.
Supplies
Paper
Cardstock
Marker
Scissors
Painter's Tape
Instructions
Show the kids how to Make A Fish Racing Game by using the pictures below as a reference to draw a paddle on their cardstock and cut out.
Have each child draw a fish on lighter weight paper and decorate it. Cut out and have them put their name on the back to make sure you know who wins.
Lay painter's tape down on the rug or floor for the start and finish line.
Have the kids put their fish on the starting line and use the cardstock paddle to create a breeze to blow their fish over the finish line.
The game can be played in twos or small groups with the winner going on to meet the next challenger.
Contributor

Things2Make.com
This fun animated website has great graphics and animated directions for their projects that are listed alphabetically in two categories: Under 6 and Over 6.