Make A Christmas Tree From Scrap Paper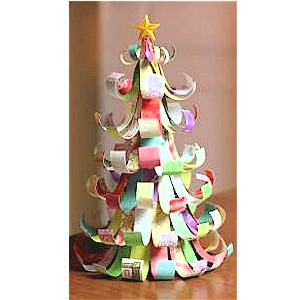 Christmas crafts are lots of fun for the kids and make great decorations. u can make this Scrap Paper Christmas Tree out of those small scraps of paper that you just can't throw away. This would be a good fund raising projects for teens.
Supplies
Paper Scraps (double sided)
Green Cardstock
Glue Dots
Scissors
Pen or Pencil
Star
Instructions
Roll a piece of green cardstock into a cone and secure it with glue dots.
Cut your double sided paper into 1" x 3" strips.
Wrap the paper strips around a pen or pencil to make them curl.
Starting at the bottom, attach the strips to the cone working your way up to the top.
Top the tree with a star pin.
Contributor

Glue Dots
Glue Dots® Adhesives – The New Way to Glue™!  Consumers have found endless uses for Glue Dots around the home, school, and office.  Glue Dots adhesives are acid-free, lignin-free, non-toxic, easy-to-use, and require no dry time.  Glue Dots adhesives provide a strong, versatile and safe adhesive solution that can be used by the entire family. Use Glue Dots adhesives for school projects, home décor, and around the office – the possibilities are endless!