Make A Beaded Bangle Bracelet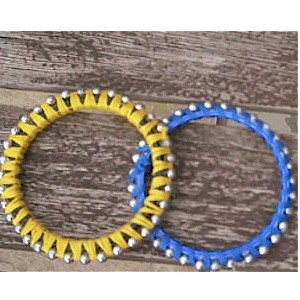 Learn to make a Beaded Bangle Bracelet. It's time to take those old bangle bracelets out of the draw and update them with a few beads and yarn. The kids will love to make and wear these "new" found treasures.
Supplies
Bangle Bracelet
Beads on a String
Embroidery Floss
Hot Glue Gun
Instructions
Because of the hot glue gun, this craft needs some assistance from an adult if younger children are involved.
Put a line of glue around the outside of the bangle bracelet and then lay down the string of beads, cutting off the excess once you have a complete circle of beads.
Do not separate the embroidery floss strands.  Wrap it around the bracelet between two beads and tie off in a knot.
Continue to wrap the floss between the beads all the way around the bracelet and tie off when you reach the beginning. It's that simple.
If you have two different sizes of bracelets you can adapt the instructions to incorporate the smaller bracelet using the picture of the yellow bracelet as a reference.
Contributor
FaveCrafts.com
FaveCrafts is owned by Prime Publishing LLC, an Internet Media Company that operates web site communities, e-mail newsletters and e-commerce stores in niche areas such as crafting, home décor, wellness, and cooking. See their craft projects at https://www.favecrafts.com/