Make A Notebook Handbag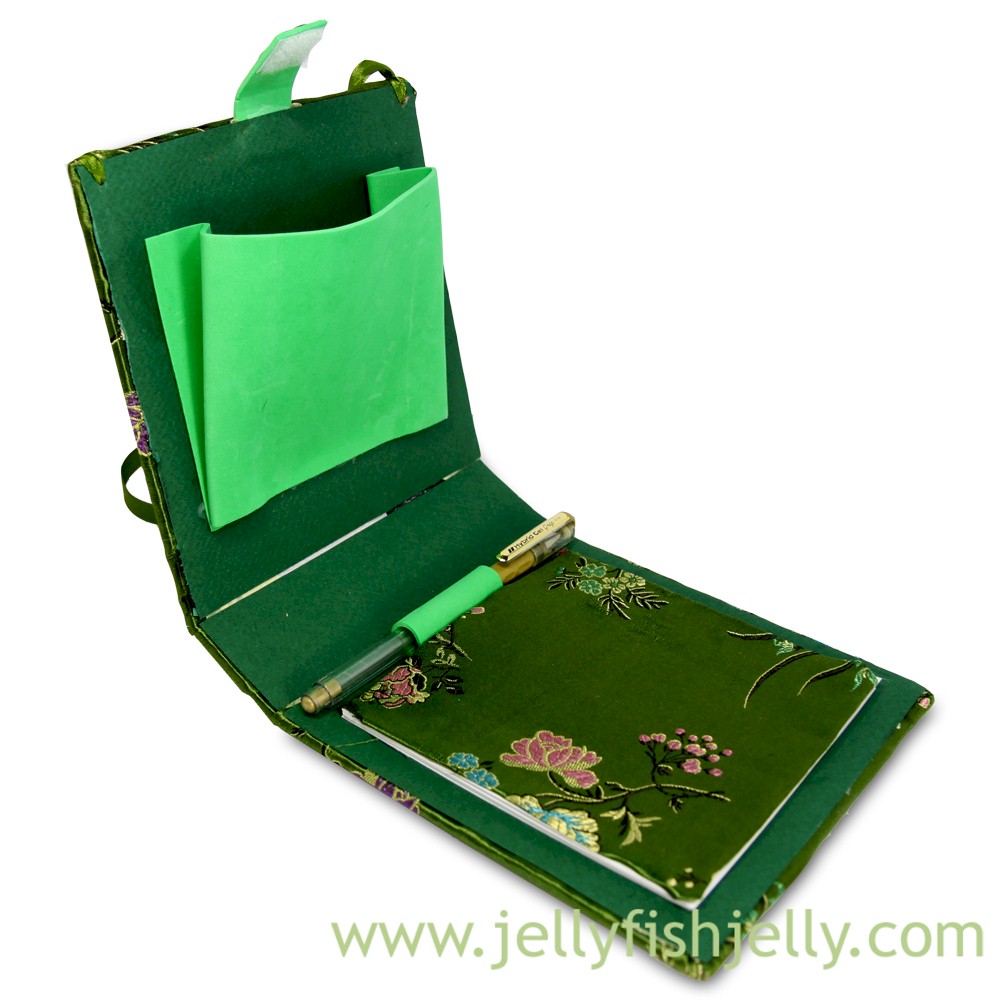 Here's a fun way for older kids to set a trend for the new school year. Teach them how to Make a Notebook Handbag in their own favorite fabric. It's a great way for teens to stay organized while setting trends.
Trivia: The term  'handbag' didn't exist until the development of the railroad revolutionised luggage. Women became more mobile, inspiring luggage makers to create easier to carry hand-held bags.
Supplies
Box cardboard
Fabric scrap
Craft knife
Ruler
Tape
Glue stick
PVA glue
Thin, coloured card
Ribbon
Craft foam
Jewels/decorations
Bulldog clips
Adhesive Velcro
Pen
Instructions
1. Cut a rectangular sheet of box card 36 x 16cm. Make sure the internal fluting is running along the short edge. (Up & down the piece pictured)
2. Cut score lines down the centre at the 16 and 20 cm points. To score means to lightly cut the surface of the card. Do not cut all the way through.
3. Bend the card along the score lines. The cuts in the card create a precise line to fold on.
4. Rub the glue stick all over the 3 outer panels.
5. Bend the card into a triangle and attach the fabric over the surface.
6. Fold the edges in and attach them to the inside with strong tape.
7. Pull the corners up and stretch the fabric over the corner point and tape it down.
8. Use PVA glue to stick pieces of card to the inside panels of the bag.
9. To make a clasp, insert a strip of craft foam underneath the lining and clip it in place while the glue dries.
10. Use a large needle to thread a ribbon handle through the top corners of the panel with the clasp. If the needle is too difficult to push through, hold it with pliers to get a better grip.
11. Stick pieces of hook and loop Velcro to the craft foam clasp and bag.
12. Fold a strip of craft foam as picture.
13. Then fold it back in a concertina fold.
12. Add a dab of glue to one end of the fold.
13. Repeat on the other side and dab glue around 3 sides.
14. Attach the craft foam pocket to the inside of the panel with the clasp.
15. Place a weight on top and leave it to dry.
16. Cut and staple a notepad to fit inside. Glue a loop of craft foam under the pad to hold the pen.
Patterns, Templates and Printables
Click on a pattern to open it in a new window