Make A Commemorative MLK Stamp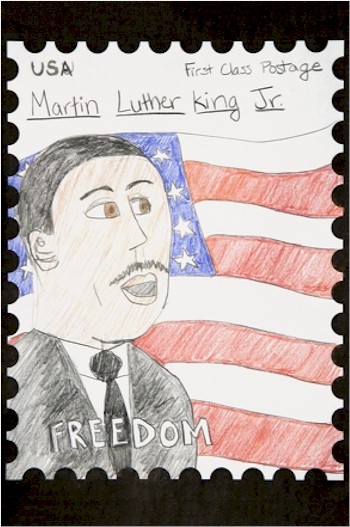 Encourage the class to Make A Commemorative MLK Stamp and submit the best entries to the government to see if they will consider using it as a real stamp. Ideas for stamps come from regular, everyday Americans—and that can include fourth graders! Remember to honor what Martin Luther King Jr. stood for; the rights and dignity of all people from all walks of life.
Supplies
Colored pencils, pack of at least 12 different colors (24 may be better)
Sheet of clean white paper, at least 8-1/2"x11"
Black fine-tip marker
Ruler
Instructions
Start by building on a common skill: basic research. You can check your library, where there are many outstanding books about the life of Martin Luther King, or the Internet, where you can also find extensive information about him, including video clips of his most famous speeches. Then, for a little background on stamps in our country, visit the U.S. postal service website, which offers a catalogue of famous stamp designs that have appeared in the past.
Now take out the white paper, and use the ruler and black fine-tip marker to measure out a frame, 8x10" in size. Choose whether you want your stamp to be horizontal or vertical in orientation; then, across the top or the bottom, neatly print key required information: USA, First Class Postage, and the name of the person or event you will draw. Remember that this writing isn't just a scrawl: your child will want to choose a particular font, just like in real-life stamps.
Use the colored pencils to create an illustration that honors King and his legacy. Your child might draw the March on Washington, for example, or one of the many images from the I Have a Dream Speech. Whatever he or she chooses, make sure the picture fills the frame, with as much space colored in as possible.
Contributor

Education.com
More than three million parents a month come to Education.com to find ideas for how to make learning fun. From kindergarten readiness to college prep, Education.com is the leading destination for involved parents.