Magic Jelly Beans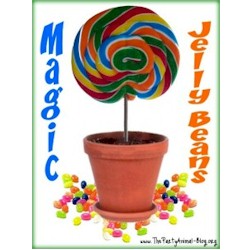 Here's a great idea for little ones who believe in magic. Of course there is really no such thing as Magic Jelly Bean Seeds, but to young kids there is. They just have to believe !!!
Supplies
Jelly Beans
Large Lollipops
Planter Pot
Soil
Instructions
Just give your child a Magic Jelly Bean – maybe you have some left over from Easter.
Then get a planter pot with soil or an area in your Garden for the kids to plant them. Have them take their Magic Jelly Bean Seed and plant it. Of course they will have to water it too while they think Sweet thoughts.

Then while they are sleeping something Magical happens…. (Mom digs up the Jelly Bean, tosses it in the garbage and places a nice BIG Giant Lollipop in its place). The true Joy comes from seeing your child's face when they see what came from their Magic Jelly Bean.
This craft is reprinted courtesy of ThePartyAnimal.org where you will find lots of party ideas and supplies.
Contributor

ThePartyAnimal.org
If you are looking to have a party to remember then thepartyanimal.org is the right place to come.