Macaroni Menorah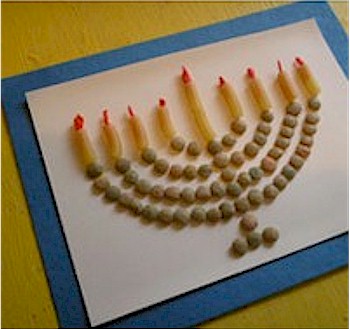 Let kids create their own Macaroni Menorah for a decoration or card to celebrate Hanukkah. This craft will be a wonderful way to encourage a discussion about religious customs and understanding of different religions.
Supplies
Dry macaroni
Dry lentils
White glue
Cotton bud
Red crepe paper
Cardboard
Instructions
Take some small pieces of red crepe paper and roll them between your fingers until they are thin enough to poke inside some macaroni. Use this technique to make nine macaroni candles.
Paste the candles onto the card to make a Menorah. Use two pieces of mararoni for the shamash.
Using white glue and a cotton bud, paint on the rest of the menorah and decorate using dry lentils.
Cut out and paste onto contrasting cardboard to make a card or picture.
Other Images
Click on an image to open it in a new window
Contributor

kids craft weekly
Each issue of Kids Craft Weekly outlines a selection of activities for young kids. The ideas in are intended to be cheap, educational and fun and can be used as suggested, or simply as a starting point from which you can develop your own plan of attack.