Lucky Ladybug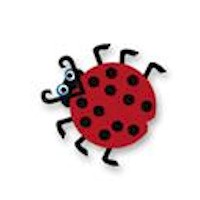 Who wouldn't want a Lucky Ladybug. Ladybugs are good luck so they say, so let the kids have fun making lots of these easy Lucky Ladybugs.
Supplies
2 ea. Black buttons for eyes
2 ea. Black chenille stems
Cardstock ­ black, red
Glue
FISKARS® for kids No. 5 Blunt-tip Scissors
Instructions
Cut one 4" circle from red paper.
Fold circle in half. Round off the edges on both ends using scissors. Unfold.
Cut one 1-1/2"" circle from black paper. Pinch the center of the circle on one side so that when glued, it will fit nicely into the underside of the red circle. Glue in place.
Punch 12 black circles for spots. Glue randomly on body.
Cut chenille stems in half. Use three of the pieces for legs. Pinch in half and glue to underside of body.
Pinch last chenille piece in half. Glue on top of head.
Glue eyes on head.
Contributor

FISKARS
You can read creative and compelling articles by industry experts and get great new project ideas in the areas of home decorating, kids crafts, party invitations, scrapbooking, sewing, quilting, and more! In addition, fiskarscrafts.com will feature how-to videos on some of Fiskars' coolest products, offer live online customer service, and have a crafting message board.