Love Coasters For Valentine's Day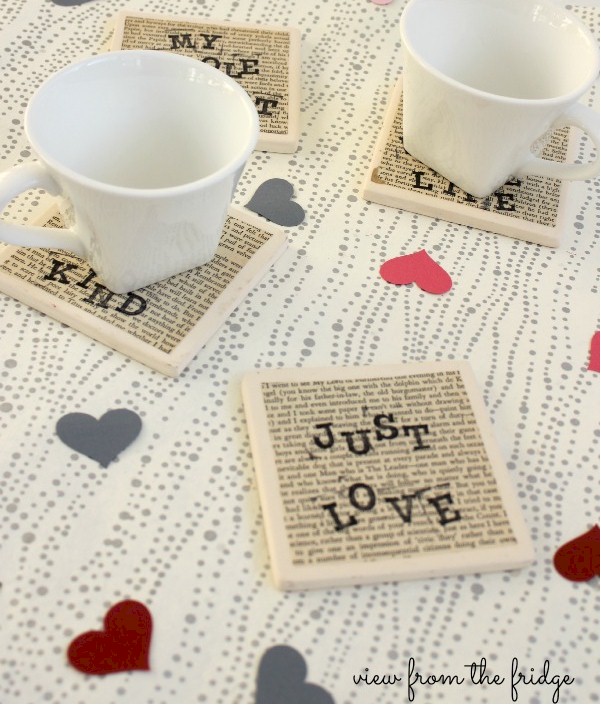 Teens will enjoy making these Love Coasters For Valentine's Day. This is a perfect gift for parents or grandparents and will continue to remind them how much you love them every day.
Supplies
Plain ceramic coasters available at most craft stores
Alphabet stamps
Black Stamp Pad
Old Book pages
Mod Podge
Polycrylic (or another sealant)
Foam Brush (or two)
Instructions
First, cut your book pages to a square slightly smaller than your coaster
Next, stamp out your quote or message. TIP: If you're using the same size letters as I did, you'll want your quote to be fairly short (I tried stamping out 'and the greatest of these is love' and I quickly ran out of room!). I also wanted these to look a bit imperfect, so I was fine with some of the corners of the rubber stamp showing around the letters:
Next, we'll adhere the book page squares to the coasters. First, apply a layer of mod podge to coaster.
Next, place book page onto coaster, centering it quickly before it adheres completely. Then apply another layer of mod podge on top of book page. You can be fairly generous … it dries clear, I promise!
Wait for mod podge to dry (30 mins – 1 hour), then apply a layer of Polycrylic over entire coaster to create a waterproof seal (important since these will most likely get drips and spills on them (especially if they're holding MY coffee cups … ha!).
Just wait for the Polycrylic to dry, and that's all, folks!
Wrap 'em up with some twine for gifting.
Contributor

View From The Fridge
Katie is the writer and creator of View From The Fridge. She is also the mom to two adorable little boys (and another baby on the way), and wife to a great guy! She loves to craft, decorate, dream up projects for her home, and she's learning to love to cook (though not there quite yet). She started View From The Fridge in the fall of 2013. Katie also enjoys coffee, a good glass of wine or beer (when she's not expecting!), running, and anything outside. She lives in Minnesota and takes full advantage of the wonderful (but short) summer season outside with her family.