Loopy Paper Wreath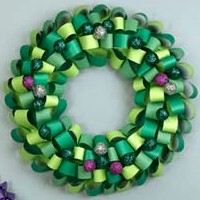 If you are using this Loopy Paper Wreath as a class craft project, have each student decorate their own ball in their own special way. Just change the color of the paper and the decorations and you've got a great project for any occasion and even a fund raiser.
Supplies
STYROFOAM™ Brand Foam:
Balls, 1", 24
Beveled Wreath, 12" x 2" x 1"
Block or Sheet, scrap
Origami paper, four sheets each: yellow green; dark green
Bright green construction paper, two sheets
Ultra-fine glitter: hot pink; green; silver
Green floral wire
Pencil
Ruler
Wooden toothpicks, 24
Paper trimmer or scissors and ruler
Extra-long straight pins (optional)
Large needle or needle tool
Wire cutters
Spray adhesive
Low-temp glue gun and glue sticks
Thick, white craft glue
Note: Some tools and equipment require adult supervision or assistance.
Instructions
Spray dark green origami paper with spray adhesive; adhere yellow green sheets to dark green, creating double-sided paper.
Use paper trimmer to cut double-sided paper and construction paper into 1" x 5" strips. (Or, measure strips with ruler and cut with scissors.) Use white glue to glue each strip into a loop; alternate outside color on origami paper loops.
Use glue gun to glue loops to foam wreath; white glue may also be used, but loops will need to be pinned in place. Glue alternating shades of green onto wreath, overlapping loops approximately 1/2" to completely cover foam.
Glue toothpicks into foam balls. Spread generous amount white glue onto each ball and roll in glitter; make 12 to 14 green, five or six pink, and five or six silver balls. Place toothpicks into scrap foam to let glue dry.
Refer to photo to insert ornament toothpicks into wreath. If toothpicks don't go in easily, first poke hole through paper loop with needle or needle tool.
Cut 5" length from wire. Twist ends together to form hanging loop. Glue loop to top center back of wreath.
Contributor

Styrofoam Brand Products
STYROFOAM™ brand from Dow is one of the most trusted and widely known brand names in the craft industry. From Christmas ornaments to wedding topiaries, they have helped shape your crafting memories for 60 years. Today, their high-performance foams are helping you make tomorrow's memories.