Lighthouse Craft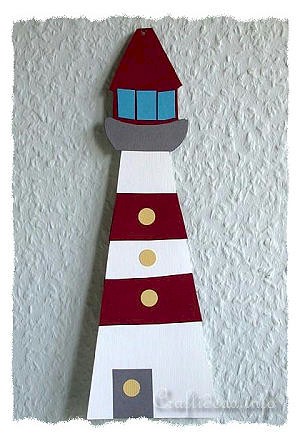 Summertime is the perfect time for kids to enjoy this Lighthouse Craft. If you are visiting lighthouses, it might be fun to adapt the picture to memorialize the lighthouses you visit.
Supplies
White, red, blue, grey and yellow cardstock
Piercing needle
School glue
Ruler
Scissors
String for hanging
Instructions
Note: All of the pieces are doubled except for the basic lighthouse tower part. That way, the lighthouse will look good from both sides. Once you do one side, repeat the same step again for the other side - reversing the pieces.
1. Print out the patterns to the size of your printer paper.
2. Transfer the markings to create permanent templates.
3. Trace the templates onto the appropriate colored cardstock and cut out all of the pieces.
4. Start by gluing the top blue windows onto the roof piece.
5. Adhere the roof piece onto the white lighthouse. Adhere the grey piece now over covering the seam lines.
6. Glue the red stripes onto the lighthouse.
7. Glue on the door and the round yellow windows.
8. Pierce a hole through the top and tie a string through it to hang.
Patterns, Templates and Printables
Click on a pattern to open it in a new window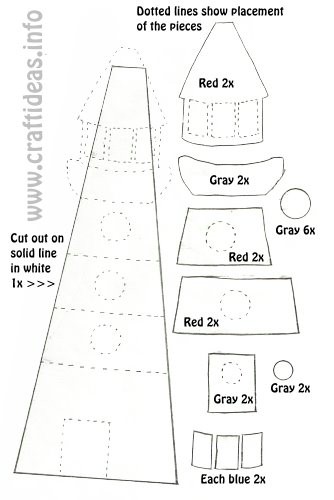 Contributor

Craftideas.info
On Craftideas.info you will find hundreds of free craft projects for all seasons of the year, free craft templates for the projects and over one hundred step-by-step picture tutorials. New crafts, patterns and tutorials are being added regularily!