Letter B Mask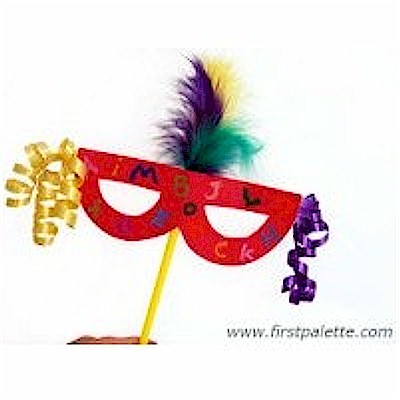 Kids will have fun learning about the letter B and get ready for Marti Gras too with this Letter B Mask. Or maybe have their own little Mardi Gras celebration.
Supplies
Construction paper or colored printable card stock
Craft stick or drinking straw
Scotch tape
Feathers
Curly ribbons
Scissors
Make alphabet letters on your mask with any of these:
Alphabet stickers/stamps,or draw letters with crayons
Instructions
Draw the letter "B" on construction paper. Make sure the size is just right for you to wear it as a mask. You may also opt to print out this template on colored card stock instead.
Cut the letter "B". You may need an adult's help in cutting out the eyeholes.
Decorate the front side of the mask with alphabet letters. Stick alphabet stickers, use alphabet stamps or write the letters using crayons.
Tape a craft stick or a drinking straw at the back to make the handle.
Tape feathers and/or curly ribbons at the back as well. Click here on how to make your own curly ribbons.
Your mask is now ready to wear!
Other Images
Click on an image to open it in a new window
Contributor

FirstPalette.com
A free resource for fun and educational kids' crafts, the site features a step-by-step guide for each craft project and includes printable templates, art recipes, and environment-friendly tips for crafting.