Jello Jigglers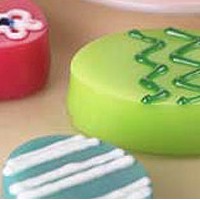 Jello Jigglers Easter Eggs are fun finger treats for the kids at Easter. You might also enjoy adding  Marshmallow Rabbits to your Easter table.
Supplies
2-1/2 Cups boiling water 2 pkg.
(8-serving size each) JELL-O Gelatin, any flavor
1 Cup cold milk
1 Pkg.(4-serving size) JELL-O Vanilla Flavor Instant Pudding
Assorted decorating gels
Instructions
STIR boiling water into dry gelatin mix in large bowl at least 3 min. until completely dissolved. Cool 30 min. at room temperature.
POUR milk into medium bowl. Add dry pudding mix. Beat with wire whisk 2 min. Add to gelatin; stir until well blended. Pour into 13x9-inch pan.
REFRIGERATE 3 hours or until firm. Dip bottom of pan in warm water 15 sec. Cut into 24 eggs using 2-inch egg-shaped cookie cutters, being careful to cut all the way through gelatin to bottom of pan. Lift JIGGLERS® from pan. Decorate to resemble Easter eggs using decorating gels. Store in tightly covered container in refrigerator.The kids will be delighted with with these jiggly treats.
Contributor

Kraft Foods
For over two hundred years, many companies have united to make Kraft Foods what it is today. Check out their heritage page and learn the many companies that comprise the Kraft family of foods.