Hot Air Balloon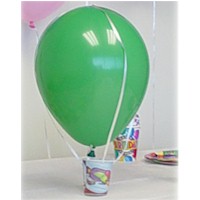 Need to interest your class in geography? Spark their imagination with a trip across the country with their own special Hot Air Balloon. It makes for great fun at birthday parties too. You can also weight them down with candy favors.
Trivia: In 1783, the first hot air balloon was set to fly over the heads of Louis XVI, Marie Antoinette, and the French court in Versailles with a rooster, a duck and a sheep as passengers.
Supplies
Balloons
Helium
Paper Cup
Ribbon
Glue
Scissors
Instructions
For each balloon, take two 2 1/2 inch lengths of ribbon, and tie them together with a knot in the center.
Take a small, disposable paper cup, and poke a hole in the front, back and each side. Thread the ends of the ribbons through the holes, and secure with a knot.
Inflate a balloon, decorate as desired and place it inside the ribbons.
Use tape or a little glue to keep the ribbons in place. This also makes a fun decoration! (Float time: 4 1/2 hours)
Contributor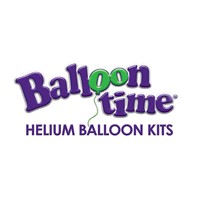 Balloon Time
Balloon Time is the leading brand of consumer helium balloon kits in North America. Balloon Time's family of products includes Balloon Time 30 Helium Balloon Kit, Balloon Time 50 Helium Balloon Kit, Balloon Time A La Carte helium tank, Balloon Time Party Create-A-Face Sticker Kit and Balloon Time Party Foil Helium Balloon Kit. The helium balloon kits are available at a variety of retailers worldwide. Visit BalloonTime.com to learn more about Balloon Time and its family of products or to locate a retailer.