Hip Hand Warmer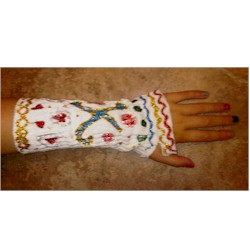 This Hip Hand Warmer is a great craft for kids and all you need is a sock to get started. This one was decorated with glitter glue however you can let your own style show through. Make one for each hand.
Supplies
Tube sock
Squeezable glitter glue
Scissors
Instructions
Lay out the sock and cut it about 2 inches above the ribbed part.
Make a small slit (about 1/4" deep) in the side of the glove. For the right hand, make the slit on the left side of the sock. For the left hand, make the slit on the right side of the sock.
At this point, you can turn under and glue the cut edge of the sock or leave it as it is. This will give a worn, edgy look. leave the cut edge of the sock. 
Turning the edge of the sock and gluing can be difficult. It helps to add dots of glue inside of the sock and then fold over the edge.
To keep the slit for the thumb from growing larger, place a dot of glue at each end of the slit and rub it into the fabric.
Now decorate your hand warmer. For the hand warmer pictured, designs were added with squeezable glue. Or, create your own designs for this funky craft for kids. Let all glue dry thoroughly.
Contributor

Kids Crafty Creations
Kids Crafty Creations is a collaboration between Carol M. Edwards and her daughter, Kennice, as an expression of their love of crafting. In addition to easy and inexpensive crafts, activities and games, you will find articles on the importance of arts and crafts and play to child development.