Hands On Me Necktie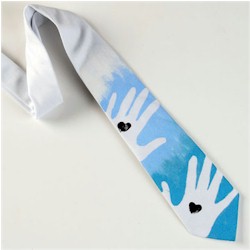 Here's a tie that Dad won't mind the hand and fingerprints. He'll love the bold colors of the precious little hands that welcome him home with hugs every night.
Supplies
Tulip Soft® Fabric Paint
    BI15794 Cool Blue 
    BI15801 Ebony 
    BI15826 Turquoise
Paintbrush
Paper towels
Tie – white
Container for water to wash paintbrush
Foam plate or foil for palette
New kitchen sponge
Scissors
Pencil
Contact paper
Instructions
Trace child's handprints onto contact paper. Cut out handprints.
Place where desired onto tie, pressing firmly around edges to prevent paint seepage.
Pour Turquoise paint onto palette and using paintbrush, paint from tip of tie up approximately one third of the way, engulfing the right handprint. Let dry.
Pour Cool Blue paint onto palette and using paintbrush, paint up tie to about one third from top, engulfing left handprint and overlapping onto the Turquoise. Let dry.
Cut a small heart from sponge. Pour Black paint onto palette. Dab heart sponge into black paint, tapping off some onto palette. Pounce one heart onto middle of each handprint. Let dry.
This craft is reprinted courtesy of ILoveToCreate.com.
Contributor

ILoveToCreate.com
Where you can explore and share, crafters can play and artists can grow!