Hands Of Friendship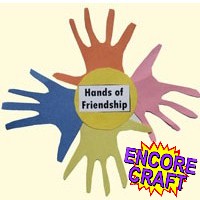 These colorful Hands of Friendship will help young scholars identify with their classmates. Everyone will remember who belongs to their special circle.
Trivia:  There are 27 bones in the human hand.
Supplies
Colored construction paper
Scissors
Markers or Crayons
Willing hands
Instructions
Place children in groups.
They can trace each others hands on colored construction paper and cut them out to make the Hands of Friendship as shown in the photograph.
The children can also print their names on the hands
Contributor

KinderPlans
If you would like to save countless hours of developing effective kindergarten and preschool lesson plans, worksheets, and activities helping preschool and kindergarten children excel, KinderPlans is the place for you.