Hand and Footprint Reindeer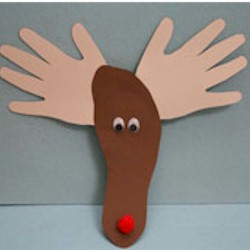 Made from your child's footprint and handprints this Hand and Footprint Reindeer is a great way to capture a memory of when your children are so small.  This is a great Christmas craft to make year after year and then to display them all so you can watch how the reindeer grow!  It's easy enough for even very young children to do and makes a great homemade Christmas gift or even Christmas card for grandparents and family.
Supplies
Light brown construction paper
Dark brown construction paper
2 googly eyes
Red pom pom
Scissors
Glue
Instructions
Trace your child's foot onto the dark brown construction paper and cut it out.

Trace both of your child's hands onto the light brown construction paper and cut them out.

Glue the two handprints (at the wrist portion) to the back of the footprint (up near the toes) to be the antlers.

Glue two googly eyes onto the footprint.

Glue the pom pom onto the heel of the footprint as a nose.
This craft is reprinted courtesy of AllKidsNetwork.com.
Contributor

AllKidsNetwork.com
All Kids Network is a network of websites dedicated to providing fun and educational activities for parents and teachers to do with their kids. We have hundreds of kids craft ideas, kids worksheets, printable kids activities and more. So far, we have two main sites - allkidsnetwork.com and kidslearningstation.com.