Halloween Spider Cupcakes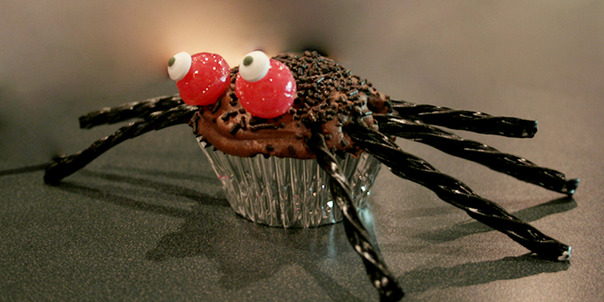 When you plan your Halloween party don't forget to make Halloween Spider Cupcakes. The kids will love this sweet scary treat and it will be the star of the table.
Supplies
Cherry 1 lb tub of Dum Dum Pops - 24 pops
One box devils' food cake (prepared according to package directions for 12 cupcakes)
2 2/3 cup confectioners' sugar
3/4 cup unsweetened cocoa
6 T butter
5-6 T milk
1 t vanilla
Chocolate sprinkles
24 black licorice twists, cut lengthwise into four strips, or alternately use black licorice laces, separated
24 edible eyes
Glue pen or adhesive of your choice
Instructions
Prepare devils' food cupcakes according to package directions on box. Let cool completely.
While your cupcakes are cooling, prepare frosting:
Cream butter with a mixer.
Add cocoa and powdered sugar alternately with milk.
Beat until you reach a spreading consistency, adding more milk if necessary.
Blend in vanilla.
Frost cupcakes once cooled.
Top each cupcake with chocolate sprinkles.
Select two Dum Dum Pops in the same flavor.
Snip about an inch off the end of each stem.
Unwrap the Dum Dum Pops. These will be the spider's eyeballs.
Using a glue pen, adhere an edible eye to each lollipop, then place them side by side into the cupcake.
Next, prepare the spider "legs."
Take a black licorice twist and cut in half lengthwise, then cut in half again lengthwise. You should end up with four thin strips of licorice from each twist.
Repeat with a second piece of licorice.
Alternately, if you can find black licorice laces, simply separate the laces and use one lace as each leg.
Place four "legs" into each side of the cupcake, trimming excess licorice if needed.
Note: Unless you use edible glue (homemade or store-purchased) the eyes will not be edible.
Contributor

Spangler Candy
Spangler Candy, located in Bryan Ohio,  has been making candy since 1906 and has recently started making crafts and recipes to share with all lovers of candy canes, Dum Dum Pops and other candy favorites. You can learn more about Spangler at http://www.spanglercandy.com.