Halloween Ghost Magnet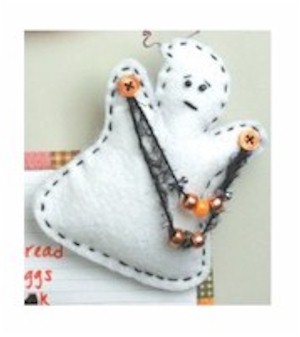 This friendly Halloween Ghost Magnet will be "frightfully" glad to hold your notes on Mom's refrigerator and you'll have lots of fun making it too.
Supplies
One 9"x 12" sheet of Glitter Felt (or Rainbow Classic Felt) in White
Fabric glue or hot glue and gun
Craft wire
Ruler
Scissors
Needle and thread
Black embroidery floss
Fabric marker pen
Black Adornaments™ Fun Fibers or fuzzy yarn • Wire cutters
Assorted beads and buttons
½" (approx.) magnet
Polyester fiberfill
Instructions
Sew or glue two black beads for the eyes for theghost. Cut a 3" piece of craft wire. Attach one black bead to each end and twist the ends in a circle to secure. Twist the wire until satisfied to form mouth. Stitch or glue wire mouth to felt.
Join to the second piece of felt. Starting at the top, stitch large running stitches or blanket stitches ⅛" from edges with the black embroidery thread. Leave an opening to stuff with polyester fiberfill. Finish stitching to close.
String two pieces of black Fun Fiber or yarn with assorted beads. Glue or sew to secure ends to hands. Glue or sew a button to each hand to cover fibers. Twist a small piece of craft wire into desired shape and attach to back of head. Glue magnet to back.
Click here for a matching Pumpkin Magnet.
Patterns, Templates and Printables
Click on a pattern to open it in a new window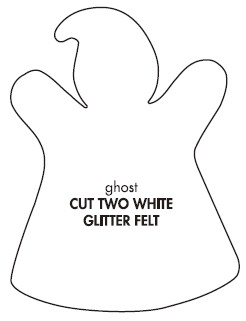 Contributor

The Kunin Group
The Kunin Group, a division of Foss Manufacturing Company, LLC, supplies a wide range of premium quality felt and fabrics to the worlds craft industry. Packaged for retail display, Kunin products are sold in retail outlets worldwide. All Kunin fabrics are made with Ecospun, the high-quality polyester fiber made from 100% post-consumer recycled plastic bottles. We are a green company as we spin the polyester fiber we use.