Golf Tee Father's Day Card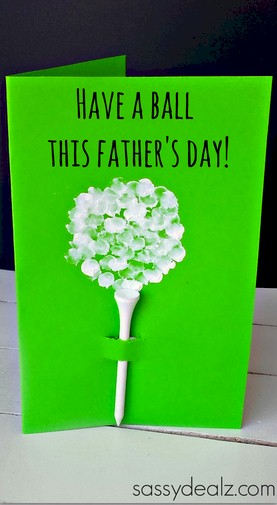 The kids will have fun making this Golf Tee Father's Day Card. There's nothing quite as much fun as having permission to stick their fingers in paint. This card is perfect for the golfing Dad. A little bag of tees is the perfect gift to go with it.
Supplies
White Paint
Golf Tee
Colored Card Stock
Scissors/knife
Black marker
Instructions
Start by cutting two slits on the folded card stock with a knife or scissors then stick the golf tee in it.
Have kids dip their fingers in white paint and make a ball shape to create a golf ball sitting on top of the tee! Finish the card by writing a clever saying such as "Have a ball this father's day" or "You're tee-rific dad!"
Contributor

SassyDealz.com
"Michelle has a teaching degree and for the love of art she started sharing kids crafts on her blog to inspire teachers, parents, and the little ones! SassyDealz.com is not only a craft website, but also a place where you can find online bargains and freebies!"